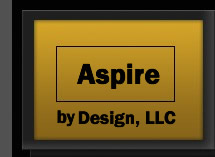 PROFESSIONAL WEBSITE DEVELOPMENT COMPANY

Aspire by Design, LLC
524 Williams Road
Wallingford, CT 06492
(860) 331-8222
(203) 242-0604




HOME

PORTFOLIO

SERVICES

CONTACT US

SEARCH ENGINES

PLANNING YOUR SITE

CLIENTS: PAY ONLINE




WHERE DO WE START?

First we start with a phone conversation. During our phone conversation, we listen to you as you describe what you ned and want on your web site.

Next we set up a meeting where we sit down in person and discuss your company. Our job is to listen and understand the requirements which are unique to your business. During this meeting, we will be gathering information and also teaching you concepts regarding Search Engines & Internet marketing. You will need to understand these concepts in order to supply the very important content that is unique to your business.

After our meeting, we present you with options that we feel will fit your company vision and your budget.

Aspire by Design understands that the internet holds a place for every business, from Fortune 500 companies to Non-Profit organizations.






ASPIRE BY DESIGN WEBSITE DEVELOPMENT PORTFOLIO

OurGananoque.com, a community portal.

Gananoque, ON

Regional Web Portals

Gananoque, ON

A Piece of the Puzzle

Cheshire, CT

The Durty Nellys

Miramichi, NB

Durham Middlefield Youth & Family Services

Middlefield, CT

Everyone Outside

Durham, CT

Airborne Industries

Guilford, CT

Women of the Woods

Durham, CT

D & S Associates Consultants, Mental Health

Middlefield, CT

POP Displays USA

Yonkers, NY

Branse, Willis & Knapp, LLC

Glastonbury, CT

Dr. Stefano Fusi, M.D.

Guilford, CT

Indian Springs Golf Club

Middlefield, CT

Hamden Ski Club

Hamden, CT

Cuomo Construction, Inc.

Durham, CT